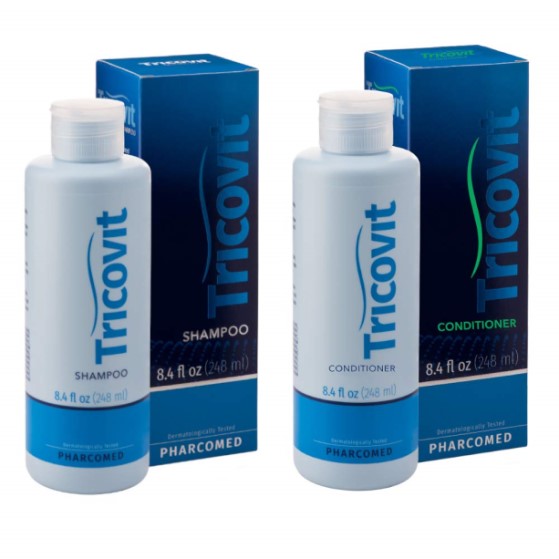 Tricovit Forte Shampoo and Conditioner (Hair Loss Kit)
Tricovit Shampoo and Conditioner:
Helps prevent hair loss.

Leaves your hair clean and shiny.

For man or women.

Shampoo regulates the amount of sebum in the scalp allowing the hair to grow.

Improves the condition of the scalp's natural oil and appearance of the hair.
Tricovit Hair Loss Prevention Shampoo and Conditioner (Bundle Pack) - As a result of the balanced combination of surfactants, Tricovit Shampoo is an especially gentle shampoo whose active ingredients also help improve the condition of the skin's natural oil (D-panthenol) and the appearance of the hair.
Tricovit Conditioner nourishes each strand, restoring volume and vitality to thinning hair. Its gentle formula hydrates both scalp and hair, keeping it strong and looking healthy. IT moisturizes and shines the hair fiber, leaving it easy to comb without feeling heavy.
---
---
More from this collection